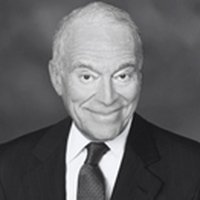 Leonard Lauder
Leonard A. Lauder
Chairman Emeritus, The Estée Lauder Companies
Leonard A. Lauder is Chairman Emeritus of The Estée Lauder Companies Inc. and is currently the senior member of its Board of Directors. Founded in 1946, the Company is one of the world's leading manufacturers and marketers of quality skin care, makeup, fragrance and hair care products, with annual sales of $10.97 billion. Its products are sold in over 150 countries and territories across more than 30 well-recognized brand names.
A graduate of the University of Pennsylvania's Wharton School, Mr. Lauder also studied at Columbia University's Graduate School of Business and served as a lieutenant in the U.S. Navy. He formally joined Estée Lauder in 1958, when it had annual sales of $800,000. Mr. Lauder consistently developed and implemented innovative sales and marketing programs and increased the Company's sales and profits. He created its first research and development laboratory and brought in professional management on every level. He also initiated The Estée Lauder Companies' international expansion, which began in 1960 with the opening of the Estée Lauder account at Harrods in London.
Mr. Lauder served as President of The Estée Lauder Companies from 1972 to 1995 and as Chief Executive Officer from 1982 to 1999. He added the title of Chairman in 1995 and served as Chairman of The Estée Lauder Companies through June 2009. Under his leadership, the Company launched many brands, including Aramis, Clinique, Lab Series and Origins. Beginning in the mid-1990s, the company also began expanding through acquisitions, including Aveda, Bobbi Brown, Jo Malone London, La Mer and M·A·C.
In addition to his activities with The Estée Lauder Companies, Mr. Lauder is extremely involved in the worlds of education, art, politics and philanthropy. He is Emeritus Trustee of the University of Pennsylvania and a founding member of the Board of Governors of its Joseph H. Lauder Institute of Management and International Studies. Mr. Lauder became a Trustee of the Whitney Museum of American Art in New York City in 1977 and currently serves as its Chairman Emeritus. He is Co-Founder and Co-Chairman of the Alzheimer's Drug Discovery Foundation; Co-Chairman of the Breast Cancer Research Foundation Board of Directors; a member of the Council on Foreign Relations; Chairman Emeritus and Lifetime Trustee of the Board of Directors of the Aspen Institute, as well as former Chairman of the Aspen Institute International Committee; and a member of the President's Council of Memorial Sloan-Kettering Hospital. Mr. Lauder served on the Advisory Committee for Trade Negotiations under President Ronald Reagan. Among his honors, he has been named an Officier de la Légion d'Honneur by France and recognized by the United States Navy Supply Corps Foundation with its Distinguished Alumni Award. The Lauder Family received the esteemed 2011 Carnegie Medal of Philanthropy in recognition of its long-standing commitment to philanthropy and public service. Mr. Lauder was the 2013 recipient of the Palazzo Strozzi Renaissance Man of the Year Award, and most recently, he was named a 2014 Living Landmark by the New York Landmarks Conservancy.
Mr. Lauder was married to Evelyn H. Lauder (Senior Corporate Vice President for The Estée Lauder Companies Inc.) from 1959 until she passed away in 2011. They had two sons together, William (Executive Chairman, The Estée Lauder Companies) and Gary (Managing Partner, Lauder Partners LLC), and five grandchildren.
On January 1, 2015, Mr. Lauder married Judy Glickman Lauder, an internationally recognized philanthropist and photographer whose work is represented in over 300 public and private collections, including the J. Paul Getty Museum and the Whitney Museum of American Art.